Scotland's X-Files DVD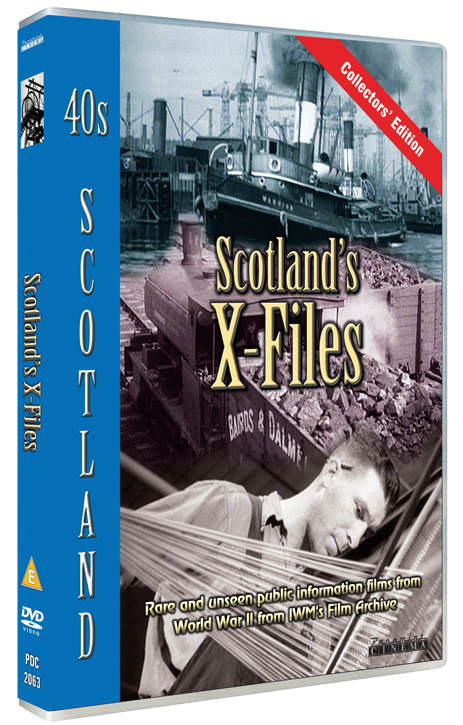 Scotland's X-Files DVD
Subtitles for the hard of hearing in English
---
---
DVD Region 0 PAL. From the archive of the Imperial War Museums, rare and unseen Second World War propaganda films made to inform the public of Scotland's role in the war effort.
Scotland Speaks (1940). The role of all Scots in supporting the war effort, assuring soldiers that there will be always be a free Scotland to come home to. Special Despatch (1941). A fictional "day in the life" of a Royal Corps of Signals Despatch rider, introduced by one of the riders. Fighting Fields (1941). Food production in wartime Scotland - the effort to expand agriculture now that the ships and harbours are otherwise employed. A Good Landfall (1941). The Salvation Army help a sailor returning by train from Edinburgh to his ship obtain news of his hospitalised young daughter. Give Us More Ships (1942). Wartime appeal by actor Leslie Banks urging for "more ships ... to win this war", featuring footage of ships under construction, tanks and aircraft being unloaded from a cargo ship, ships under fire, and Nelson's flagship HMS Victory at sea. Strangers (1942). Polish Soldiers are posted to a camp in Scotland after the fall of France. Transatlantic Airport (1944). Prestwick Airport became a meeting point of world air routes during The Second World War. Clyde-Built (1944). Shipbuilding on the Clyde showing the processes involved and emphasising the importance of speed efficiency and reliability in ship construction.

SPECIAL FEATURES: Subtitles in English for the hard of hearing
FORMAT: PAL DVD All Regions - aspect ratio 1.33:1 - b/w
TOTAL RUNNING TIME: 99 mins.
The item has been added to your basket