West Highland DVD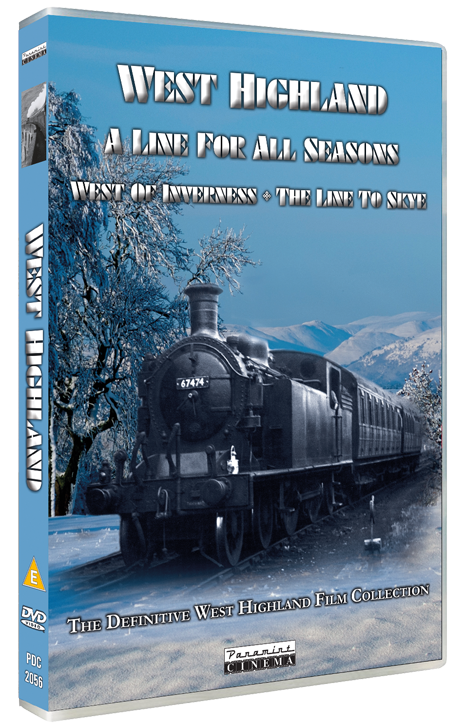 West Highland DVD
Subtitles for the hard of hearing in English
---
---
DVD Region 2 PAL. The best DVD you'll ever see featuring archive films of Scotland's scenic West Highland Lines. Features the BBC's 1960 classic West Highland.

West Highland (1960, b/w). By 1960, the reign of steam on Britain's most scenic railway, the West Highland, was drawing to its close. John Gray, a BBC producer and sound engineer with the GPO Film Unit in the 1930s, made "West Highland" as his tribute to this wonderful line. Perhaps the last of the lyrical documentaries, it has been digitally re-mastered in crisp black and white. A Line For All Seasons (1980, colour). "Eddie McConnell in top form telling the story of the West Highland Line ... relishing the rich opportunities it provides for spectacular photography ... excels himself in a stunning succession of year-round landscapes ... the film is a retrospective account of the building of the line." (The Scotsman). West of Inverness (1939, b/w) is an eloquent short film about the problems faced by a rural community and the increasing role for the railway. It highlights the growing dependence on the outside world for provisions and goods. Newly remastered from a print courtesy Patrick Moules. The Line to Skye (1973, colour) is another gem from the camera of Eddie McConnell. This film was widely shown, including in the House of Commons, in support of retaining the Inverness to Kyle of Lochalsh line. Newly remastered in High Definition.

DIRECTORS: John Gray, Eddie McConnell
SPECIAL FEATURES: Subtitles in English for the hard of hearing.
FORMAT: PAL DVD Region 2 - aspect ratio 1.33:1 - b/w and colour
TOTAL RUNNING TIME: 85 mins.
The item has been added to your basket